---
Security that works as hard as you do.
Easily view and manage locks, or grant or remove access to the house. Receive notification the moment that something isn't right, such as a pipe leaking in the basement or the garage door left open. Monitor the state of your home, no matter how far away you are, by putting the control in your own hands.
---
---
Control in the palm of your hand.
Our new security system here at the Sound Vision is sure to catch your eye, now increasing our repertoire in the smart home automation business. No longer worry whether your system is armed or disarmed when you leave home; a quick tap on your phone will allow you to comfortably manage your alarm system even when you're not home.
Contact us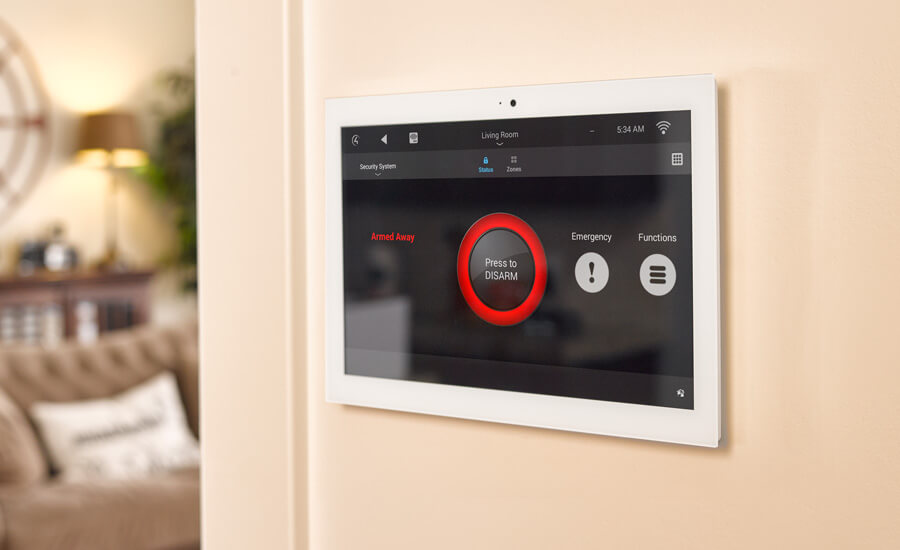 One Touch Security
From motion sensors to water bugs, we have a wide array of security features that will equip your home to be protected against any damage it may incur. Access all your security system's features with a push of button on your smart phone and you're good to go, literally.
Smart and Secure
Our alarm products are compatible with some of the best automation systems such as Control 4 and Crestron, which is something we're sure you'll enjoy. Do yourself a favor and enjoy the best of both worlds for security and smart home automation.
We raised the bar... again.
Comfort & Convenience
Have you ever been away from your home and questioned, "Did I lock the door?" "Did I leave the garage open?" Smart home automation gives you the ability to lock the door, close the garage, arm the alarm and even modify thermostats up or down. Having all of your home devices conveniently available in one app, allows you to remotely monitor and manage your home while away, and ultimately give you peace of mind.
Open & Close The Garage Door
Garage doors are such old technology but still a necessity. Want to know if the doors are closed before you board your flight? Want to let a neighbor in while you're at the office? With the ability to have a dashboard for your house you can take a single glance at your phone to know your house is set to away mode which means doors are closed and all is well. Open the app on your smartphone, and open it for the delivery man or contractor, and close it when they're done.